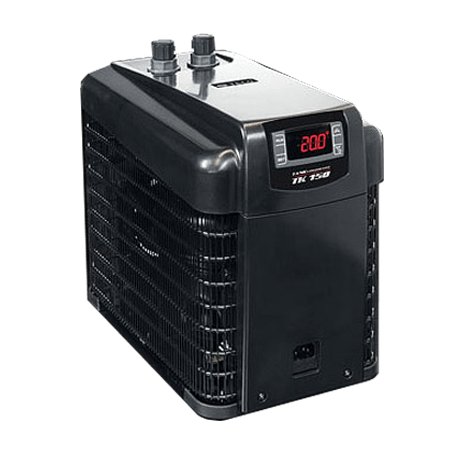 TECO TK-150 Aquarium Chiller
1,151.76$
The new TANK® chiller line is the next generation of TECO's flagship SeaChill™ aquarium chillers—used by consumers and professionals for over a decade. The TECO TANK is the result of one of TECO's most ambitious and comprehensive redesigns of the SeaChill aquarium chiller to-date. New changes include an increase in cooling efficiency and improved usability, functionality, and durability.
For small aquariums — up to 60 gallons
Description
Specifications
Documentation
Additional information
Test1
Description
TECO TK-150 Aquarium Chiller FOR SMALL & NANO SIZE AQUARIUMS — UP TO 60 GALLONS
The new TANK® chiller line is the next generation of TECO's flagship SeaChill™ aquarium chillers
Used by consumers and professionals for over a decade. The TECO TANK is the result of one of TECO's most ambitious and comprehensive redesigns of the SeaChill aquarium chiller to-date. New changes include an increase in cooling efficiency and improved usability, functionality and durability.
TECO TK-150 Aquarium Chiller integrate an Efficient Cooling Technology
Internationally-recognized high-end compressors and titanium coaxial heat exchangers provide high performance, low energy consumption and low noise levels (most of the noise comes from the fan rather than the compressor). In fact the Teco TK 150 only added +2dB to the filtration system noise when on.
Digital Thermostat
The setting of functions is intuitive and the temperature detection is accurate, resolution 0.1°C/0.2°F. The setting range is 0°-35°C (32°F -95°F) and there is a closed loop temperature control system with high accuracy and extremely tight differential (0.5°C/1°F). Displayed temperature is in °C or °F and there are security alarms.
Efficient Design
Solid and durable structure designed to guarantee near perfect protection against corrosion. Rotatable in-set water connections, rotatable exhaust conveyor, and smaller form-factor helps facilitate placement of chiller in confined spaces.
Security
International Protection Marking IPX4 (Water splashing against the enclosure from any direction shall have no harmful effect).
Others Features
TK 150 work exclusively as a cooler (no heater built-in or in option).
The inlet and outlet pipes are recessed on the edge of the unit, enabling the chiller to be placed flush against the wall, ideal for smaller spaces.
All of the TANK Chiller lines have an Aluminium structure making them strong and lightweight.
Teco placed the probe in the inflow pipe to make sure that the temperature measured is the actual one from the tank, which hasn't been cooled yet. This is one of the reasons why we did not notice a drop in temperature on the display shortly after turning the chiller on.  If the probe was located in the outflow pipe, it would read a lower temperature shortly after the chiller is on, but it would not be the same as the temperature in the tank. This could lead to frequent on/off cycles of the unit without an actual lowering of the tank temperature.
Recommended Aquarium Size: Up to 60 gallons
Horsepower: 1/8 HP
Minimum Flow Rate: 106 gallons per hour (6.7 lpm)
Maximum Flow Rate: 132 gallons per hour (8.3 lpm)
Minimum set point: 41°F
Maximum set point: 95°F
Net pull-down in an 86°F room: 9°F cooler (40 g aquarium size)
Titanium heat exchanger
Set-point in °C
Ambient temperature range: 41 – 104 °F (5°C – 38°C)
Power: 120V-60Hz; 1.9 A; 150 Watts
In/Out Water Connection: 1/2″ tube diameter
250 W chilling capacity
Compatible with salt water
Maximum Pressure: 7.25 psi (0.5 bar)
Gas/Refrigerant: R134a
Certification:
CE
RoHS Compliant
Compressor thermally protected
Compressor 
IPX4
Weight: 29.6 lbs. (12.2 kg)
Dimensions: 8.46″ x 14.21″ x 12.4″H (215 mm x 361 mm x 315 mm H)
Additional information
| | |
| --- | --- |
| Weight | 12.2 kg |
| Dimensions | 10 × 29 × 38 cm |
| Maximum Water Pressure | 0.5 bar |
| Type of chillers | Chillers |
| Power Supply | 120V-60Hz, 1 phase |
| Power Capacity | 1/8 HP |
| Cooling Capacity | 250 W |
| Flow Rate | 6.7-8.3 lpm |