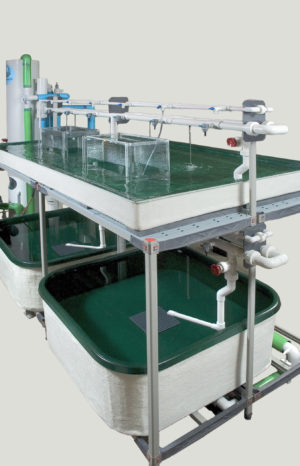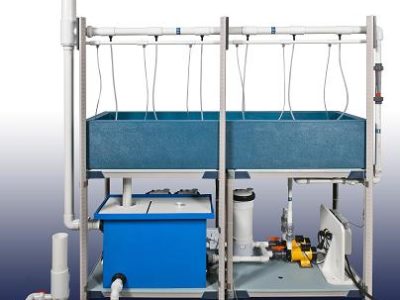 Aquabiotech designs and manufactures high quality fully recirculating life support systems designed for research with small-bodied marine life in a totally controlled environment.
Each wet table system is unique and made to your specifications. High quality and extremely flexible.
Advantages & Benefits
Quality, performance, and flexibility!
We design and manufacture the system for your needs!
These custom-made and high-quality wet tables are long-lasting & easy to clean.
Flexibility in design, focusing on your needs!
Great space and flexibility for experimentations
Many types of flat tables to choose from depending on your needs
Many types of injectors available

Great flexibility in designing the systems
High-quality and innovative equipment
Unique REBF water filtration module
Custom raceway
Chilling or heating system
The necessary self-cleaning tanks
All systems are mounted on a high-strength fiberglass and plastic stands with built-in Microban® antimicrobial protection. It protects the shelf mats from bacteria, mold, mildew, and fungi that cause odors, stains, and product degradation.
Stands are seawater and mold-resistant and CDN NSA-approved for direct contact with food
Standard feature for custom units
Low maintenance
Precision and quality filtration
Innovative filtration technology
100% tested before shipping

No downtime in set-up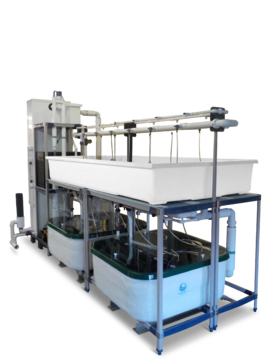 Learn more about Microban technology:
Antimicrobial Protection
Rack is protected against microbes by utilizing an antimicrobial additive during the manufacturing process. The built-in Microban® antimicrobial product protection that inhibits the growth of bacteria, mold, mildew, and fungi that cause odors, stains, and product degradation. By inhibiting the growth of microbes, Microban® protection keeps shelves and stands cleaner and fresher between cleanings for the lifetime of the product. Microban protection has an established performance record in many commercial, food service, and other institutional settings and has received NSF International Listing for food contact and water applications.

What are Antimicrobials?
Antimicrobials are materials that are used to restrain the growth and normal cell functions of microorganisms such as bacteria, fungi, algae, mold, and mildew that dwell on non-living objects and surfaces, which cause odors, stains and product deterioration.
The logo of research institutions does not indicate an endorsement of our products. They give only an indication of the different projects carried out. Click on a logo to see the description of the project.