An easy-to-use commercial-scale chemostat for nitrification
A Biofilter-Inoculation Station (BIS) is a novel automated system that grows nitrifying bacteria on biofilter media.
The nitrification process consists of transforming ammonia into nitrite and into non-toxic nitrate.  It is part of the natural nitrogen bio-degradation cycle in soils, lakes and ocean.   Nitrifying bacteria, a slow growing group of bacteria, require oxygen  and extract their growth energy from inorganic nitrogen (NH4, NO2).  Since they do not feed on organic matter, which provides so much more energy, they can be easily overgrown by bacteria that do (heterotrophic).
The Biofilter Inoculation Station creates the best possible environment for these slow-growing bacteria.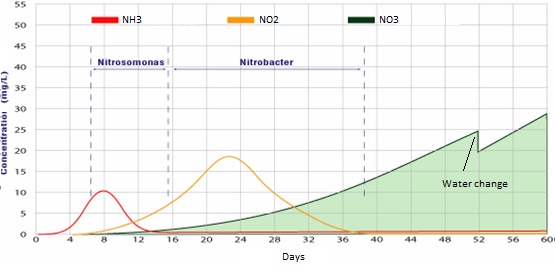 A light biofiltration media, packed into movable mesh bags, is set into a BIS where it is fed with increasing amounts of ammonia.  Once coated with an active nitrifying population, the bag is simply removed from the BIS and inserted into the biofilter of a given bio-filtration system.  All AquaNit™ biofilter media from AQUABIOTECH INC. is likewise, light and movable.
This process prepares a biofilter to its planned ammonia load.  The result is a truly performing biofilter, on time, with tremendous savings in maintenance time  before loading.  The need to feed the biofilter, dose ammonia/nitrite/nitrate daily, and adjust pH is completely eliminated.
For years, all our biofilters have been pre-activated at our factory before delivery to save our clients time and add peace-of-mind.  Now, the automated process is made available!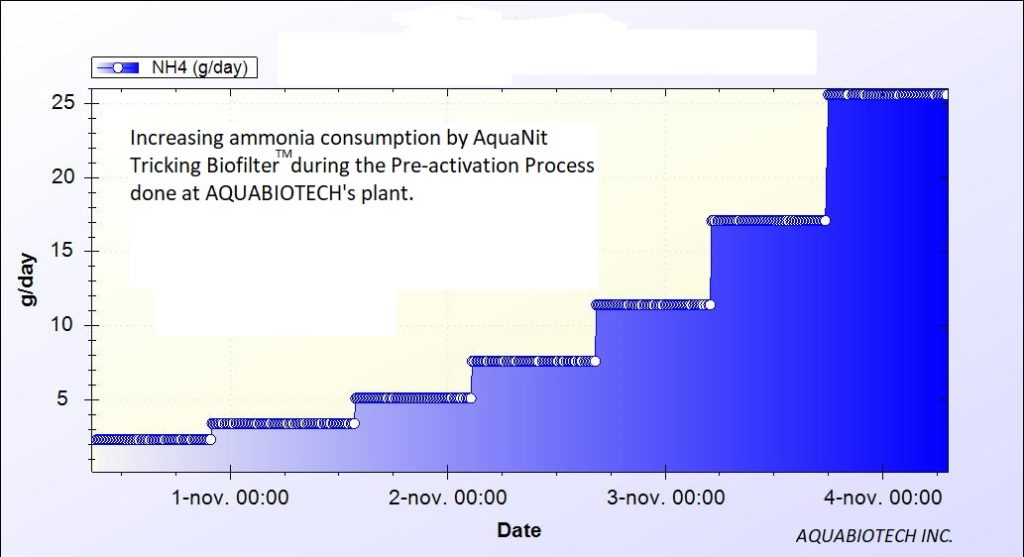 A self-regulated process
The BIS was designed from the graduate work done by Hélène Drouin, AQUABIOTECH INC. co-founder, while doing her  Ph.D. on nitrifying biofilter at Université Laval, CANADA.  Now integrated into the Inoculo-Monitron™, and associated hardware, the bio-inoculation process is self-regulated.  Water temperature, pH and water make-up are specifically adjusted to keep nitrifying bacteria under exponential growth conditions. Self-activated, the injection of ammonium growth solution and nutrients increases as the nitrifying population grows.  When the daily ammonia consumption target is reached, the BIS falls into a Maintenance Mode.
The BIS is furnished with an air blower, providing these aerobic bacteria the necessary oxygen.
Applications
Aquatic and marine laboratories operating in highly recycled water;
Aquaculture RAS;
Biofilters for lobster storage systems;
Biofilters for industrial treatment of nitrogenous waste;
Maintenance of nitrifying biofilters during winter or off season period
Laboratory and industrial scale models
Two models of biofilter inoculation stations are currently available, a smaller station for laboratories which can activate 1 cubic meter of biofilter media and a larger BIS for industrial scale projects.
1. Biofilter Inoculation Station (BIS) for Laboratories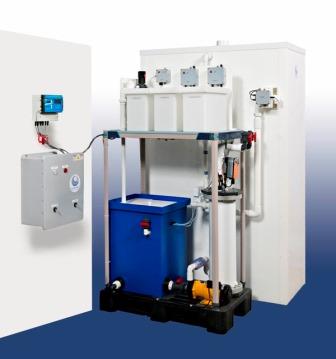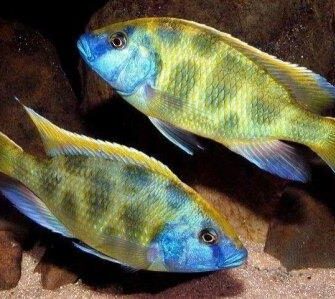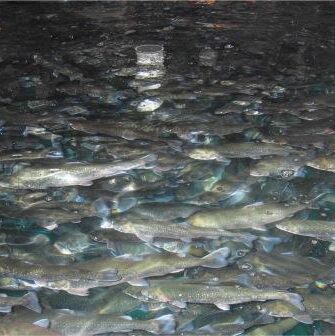 If you are interested in this equipment, contact us!
Adds bio-safety to an aquatic laboratory
With a BIS, we know exactly how much ammonia is oxidized daily by the biofilter media.  Once it has proven itself ready for the future ammonia load, the biofilter bag(s) can be transferred into the biofilter of a given RAS.  Fish or invertebrates can then be safely added to the system.
This process results in tremendous savings in technician time for dosing ammonia, adjusting pH and feeding the bacteria.  The operator is confident that the biofilters are ready for the ammonia load excreted by the organisms, preventing initial ammonia spikes.
Not only does a BIS activate new biofiltration media, but it can also maintain it bio-active between experiments.  For added bio-security, the used bio-filtration media can be discarded, preventing cross-contamination ,via the biofilter, between experiments.
Eight biofilter 100-L bags activated at a time
A standard BIS for wet labs can simultaneously inoculate eight AquaNit™ bio-filter bags – dimensions from 25 to 30 cm in diameter and 140 cm in height – or 32 x 1-L Siporax filter bags.  
The wet lab unit is furnished with an air blower, providing these aerobic bacteria with the necessary oxygen.
The bio-inoculation unit requires a 115V, 60Hz electrical connection and a source of de-chlorinated fresh or seawater.
Three storage reservoir hold the liquids necessary for bio-inoculation process: the pH buffer solution; the growth medium; and the nutrients medium. These solutions are provided by Aquabiotech and the reservoirs are simply filled manually by the operator. 
  
Industrial-scale biofilter Inoculation Station (BIS-8m3)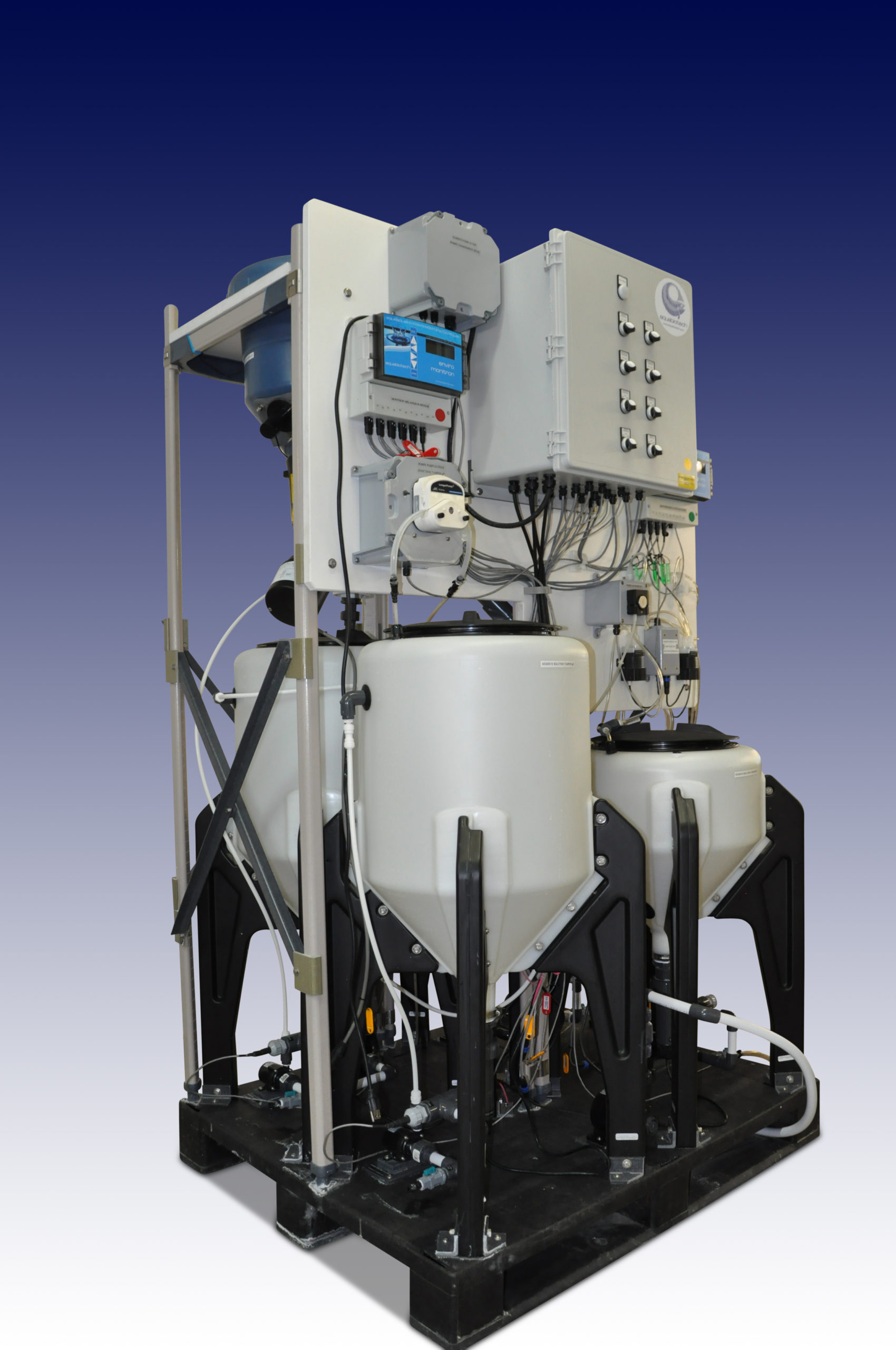 This outstanding BIS offers the same characteristics as the BIS-1m3 but with additions allowing to easily inoculate up to 8 m3 of the bacterial substrate.
Indeed, this model has also the ability to automatically prepare growth and pH control solutions. Simply fill the hoppers (capacity of 22 kg) with chemicals in the form of powder, so that the system starts the process of manufacturing aqueous solutions. Subsequently, the Inoculo-monitron will inject these aqueous solutions in increasing amounts in order to automatically inoculate the bacterial substrate.
This bio-inoculation unit requires a 115V, 60Hz electrical connection and a source of de-chlorinated fresh or sea water. It is furnished with three solution tanks which contain the liquids necessary for the process of bio-inoculation: the pH buffer solution; the growth medium; and the nutrients medium.  This last tank is filled manually by the operator.  
If you are interested in this equipment? Contact us!
  
The logo of research institutions or companies do not indicate an endorsement of our products. They give only an indication of the different projects carried out. Click on a logo to see the description of the project.