Manufacturer: Metromax
Corrosion-Proof
Shelves are built out of polymers with type 304 stainless steel corners.
Posts are all-polymer. Microban® Antimicrobial Product Protection is built into every shelf mat
A 1″ adjustable leveling foot compensates for uneven floors
Shelves up to 60" (1524mm) in length feature a one-piece solid mat. Posts are numbered every inch for shelf adjustment.
Made in Mexico
Lifetime warranty against rust and corrosion (In a saltwater environment, 304 stainless steel corners should be covered with an epoxy coating).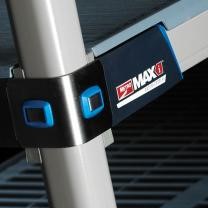 Microban antimicrobial product protection inhibits the growth of mold, mildew, bacteria, and fungus.
Easy-to-clean: Lift-off polymer shelf mats wash easily.
Solid mats have a built-in ships edge to help contain spills
Can be used continuously in temperatures up to 120 °F (48°C) and can even withstand intermittent exposure to environments that reach as high as 212 °F (100°C)
Shelves depths: 18", 24" [457, 610mm]
Shelves lengths: 24/30/36/42/48/54/60/72" [610/760/914/1060/1219/1372/1524/1829mm]
Posts lengths : 27/33/54/63/74/86'' [686/838/1372/1600/1800/2184]
Weight Capacity- up to 48'' (1220 cm): 800lbs. (363kg)
Weight Capacity- 54″ (1370mm) or longer: 600lbs (272kg)