Discover Vertical Storage
CANADIAN TECHNOLOGICAL KNOW-HOW
"If you can keep pure, well oxygenated water flowing around each of the animals, they're going to live much longer." _ Words of wisdom from Canadian biologist Hélène Drouin, president of AQUABIOTECH INC, and specialist in the design and fabrication of closed-circuit tanks for the conservation of aquatic and marine life.  "Furthermore, if you keep each animal segregated in chilled water, you can store quality lobster for at least three months, and possibly up to six months."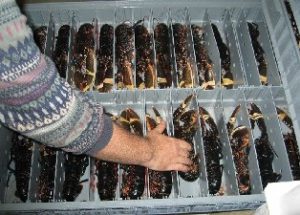 Eco Lobster-Condo
More pounds per square foot

Healthy lobster with zero mortality

Quality lobsters stay alive for up to six months
Traditionally, lobster purging and refreshing is done in crates flowing into the lobster pond.
«However by adding vertically stacked totes over a lobster pond,  the storage capacity of a pond will double.  This allows for a huge saving in land and building space.»
With our mix of purging and long-term storage systems you are sure to keep you clients happy with quality product:  an investment that rapidly pays for itself. Our experienced team of biologists, engineers and technicians is well equipped to take your project from concept, whether a new or upgraded facility, through successful implementation.  
A thoughtful design that translates into a better use of energy, space and water.
ECO LOBSTER-CONDO: A SUREFIRE UNION OF COMMON SENSE WITH TECHNOLOGY
The ingenious design enables you to store lobster with ease in a surprisingly small footprint, while oxygen-laden water flows around each animal.
[contact-form-7 id="4262″]
3 applications: 3 Eco Lobster-Condo systems
Eco Lobster-Condo is AQUABIOTECH's exclusive line of equipment for the storage of live crustaceans.
Most Lobster Condos are chilled lobster holding systems for either long-term storage (several months of storage, no feeding), or In-Out operation (transit systems).   Many are compact shower systems.  Some operate with conventional tanks.
"Transit" and Long-term holding systems can be located away from shore.  About 99.9% of the water flowing through them is then recycled to reduce water replacement and chilling costs to its minimum.  Partial water reuse is applied for near-shore plants that benefit from clean seawater.
We also upgrade existing purging ponds to double their holding capacity. Trays or totes are then stacked over the pond and connected to our water recycling/chilling system.  The pond becomes a chilled storage system able to hold product beyond the fishing season.
Whether your future system is partly recycled without biofiltration or a REBF system (water Recycling with BioFiltration) system, we guaranty the quality of the water in it. Plus, all its parameters, whether they are temperature, oxygen, ammonia, CO2, salinity, and pH, can be monitored.
In North America, because of its buoyant ring around the collar, plastic floating crates have replaced wooden crates.  They are the preferred way of carrying lobsters to the indoor lobster tank into which they are floated.  Seasoned lobster is then shipped directly from the lobster tank to the clients.
Max: 100 lbs.

For disgorging & transport
Built with stand pipes, and combined with a series of calibrated holes, these cost-effective totes keep lobster submerged in a constant flow of water.  Stacked 3 to 6 high, depending on water temperature, they are ideal to keep lobster short term in a small foot print.
Dimensions (ext): 31.7''x 18.3''x12.9''H.

Integrated overflows keep submerged lobster.

Place under shower.

55 lb / tote.

For disgorging

*
* Totes can keep lobster medium-term if compartmentalized.
Shallow basin made of moulded plastic with a built-in overflow that spills water from one level of tray down to the next.  Each pull-out tray consists of 6 permanent sections into which dividers can be placed so as to keep the animals apart.  Trays can be either pulled out like drawers from a cabinet, or nested into stacks.
Lobster trays were developed to meet longer-term holding requirements faced by lobster distributors to balance seasonal harvests with market demands.  Combined with our aquaBiota water reused systems, they provide optimum conditions for the lobster to survive and thrive in storage.
Dimensions (ext): 48.3'' long x 28.2'' wide x 4.9'' deep.

Integrated overflow keeps submerged lobster.

Placed under shower or rigged in pool.

Can house between 18 to 36 lobsters, depending on their size

Total capacity between 32-45 lbs / tray.

Contention extended
USERS OF THIS TECHNOLOGY (CLICK FOR MORE DETAILS)
The logo of a company does not indicate an endorsement of our products.
They give only an indication of the different projects carried out.