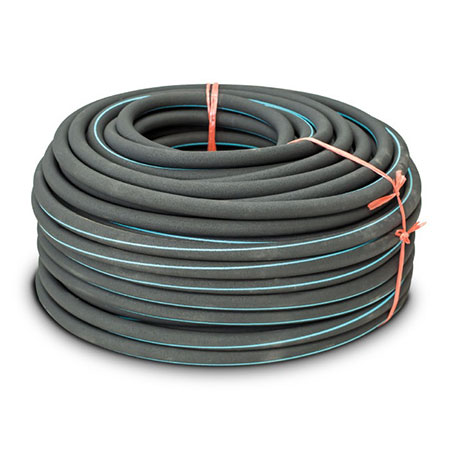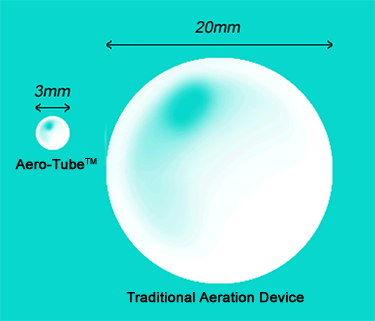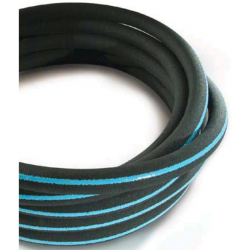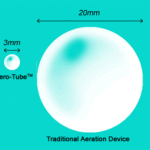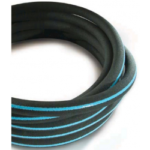 Aero-Tube diffuser
257.00$
Manufacturer : Colorite Aero-Tube
Compatible with salt water
Fine bubbles (3 mm)
Available in 100 ft rolls (30 meters)
Limited warranty : 1 year
Made in USA
Description
Specifications
Additional information
Test1
Description
Aero-Tube diffuser produce fine bubble patented technology maximizes aeration efficiency by creating finer air bubbles and by creates significantly more surface area than competing technologies. These features give a much higher oxygen transfer rate and a more efficient aeration system.
Aero-Tube™ aeration tubing has been used successfully with a wide range of Aquaculture species and production systems.  Whether you are producing fish or holding lobster, anywhere you are using traditional aeration systems to oxygenate your water, you can benefit from the efficiency and durability of an Aero-Tube™ system.  Aero-Tube™ technology has numerous applications including grow out ponds, raceways, recirculation systems, hatcheries, holding lobster and live-haul trucks.
It doesn't matter if an aeration system or device splashes, sprays, or diffuses air, the bottom line is how much surface area it creates. The surface area is where water contacts air and where oxygen transfer takes place. Smaller bubble size results in more surface area, which is why fine bubble aeration devices are superior in oxygen transfer than coarse bubble aerators. To maximize aeration efficiency in a system, an aerator must create fine bubbles while expending a minimum amount of energy. Aero-Tube diffuser technology meets both goals, and does so with a long-life, low-maintenance system.
The technology behind the extremely high performance and efficiency of Aero-Tube™ is our twice-patented manufacturing process which, through a unique combination of technique and raw material, creates numerous tiny pores throughout the length of the hose. These micro-pores allow the efficient transfer of air into the water. By combining Aero-Tube™ aeration tubing with an efficient clean air blower, you create a high efficiency, low cost method of aerating water.
Aero-Tube diffuser achieves its high energy efficiency in two ways:
Due to the number of pores created during the manufacturing process, there is little resistance created when pushing air through the tubing.  Resistance equals energy demand. By working with Aero-Tube™, you can use significantly less horsepower when compared with traditional methods of aeration (paddlewheels, aspirators, less efficient tubing).
Aero-Tube diffuser's tiny pore size creates extremely small diameter bubbles.  The smaller a bubble of air the more efficiently it transfers oxygen into water (more surface area!).  Small bubbles also take longer to rise once they are introduced into water.  Slower rising, small-diameter bubbles mean more contact with the water and a much higher rate of oxygen transfer.
By creating significantly smaller bubbles, more efficiently, Aero-Tube™ products are able to deliver high rates of oxygen transfer and energy efficiency.
Easily cut
Patented  technology to efficiently transfer oxygen in both fresh and salt water applications
At a depth of 1 meter and using a 30 cm length of Aero-Tube, 18 grams of O2 will be diffused per hour in freshwater and 46 grams of oxygen per hour in saltwater.
Combines linear low density polyethylene and rubber from recycled car tires
Clean the tubing by using a gloved hand and clean water (rub vigorously)
After several years of continuous usage, the tubing should be replaced to maintain the maximum efficiency and oxygen exchange.
Designed to operate 24 hours a day/7 days a week without problems
Outside Diameter : 1.00 inch (2.54 cm)
Inside Diameter : 0.5 inch (1.27 cm)
Wall Thickness : 0.25 inch (0.635 cm)
Weight : 0.22 lbs per foot (0.327 kg per meter)
Roll Length : 100 ft. (60.98 meters)
Roll Weight : 44 lbs. (19.9 kg)
Burst Pressure : 80 PSI (5.5 bar)
Additional information
| | |
| --- | --- |
| Weight | 20.4 kg |
| Dimensions | 56 × 59 × 33 cm |